Milestones
Kanata North's story of innovation can be traced back three-quarters of a century. Let's look at some of the important historical milestones on our journey to date: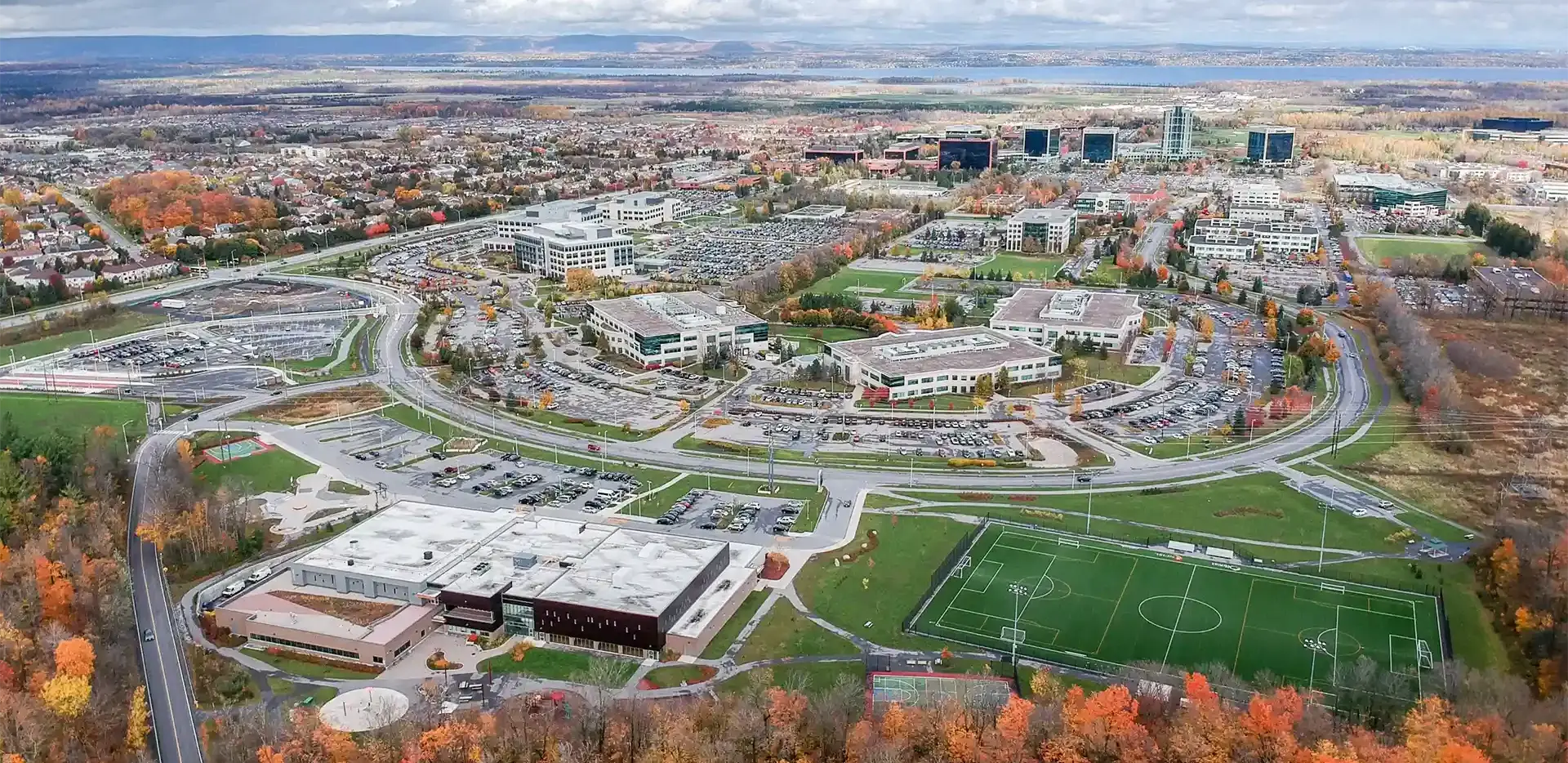 1948
1972
1980
1986
1992
2003
2013
2015
2017
2018
2019
2021
2021
2022
2022
2023
1948
Computing Devices Canada Founded
Computing Devices Canada is founded by George Glinski and Joe Norton with the development of a navigational aid for aircraft — technology originating from research conducted at the National Research Council.
1972
Mitel Corporation Founded
Mitel Corporation, the parent company of Mitel Telecom, is founded in the Kanata North Technology Park by two young British engineers, Michael Cowpland and Terence Matthews, with the vision of applying microelectronic technology to the telephone industry.
1980
Silicon Valley North
The earliest reference to Ottawa as "Silicon Valley North" is found in the Ottawa Citizen newspaper (Nov 21, 1980)
1986
Newbridge Networks Founded
Newbridge Networks is founded by Welsh-Canadian entrepreneur Sir Terry Matthews to create data and voice networking products.
1992
Newbridge Affiliates Program Launch
The Newbridge Affiliates program, considered an innovative market-driven corporate venture program, is launched. It resulted in at least 20 companies employing over 1,500 people and generating combined revenues greater than $200 million.
2003
Brookstreet Hotel Opens
The Brookstret Hotel, Ottawa's premier hotel, dining, conference, & wedding destination opens in the heart of the tech park.
2013
Kanata North Business Association Founded
In 2013, the KNBA is founded with the mission to represent and advocate for the best interests of the member companies located in the area.
2015
Ciena plants roots in Kanata
Ciena announces the establishment of a new corporate campus in the Kanata North Technology Park including an advanced technology lab.
2017
Blackberry QNX first-ever AV test
BlackBerry QNX uses the public track for the first-ever AV test using live city infrastructure in North America. Witnesses saw the car stop at a traffic light for a pedestrian crossing.
2018
$13 billion in GDP annually
Economic Impact Analysis reveals that the Kanata North technology park contributes $13 billion in GDP annually (up 66% in the last three years from the previous economic impact assessment).
2019
The University of Ottawa opens Kanata North Campus
The University of Ottawa opens campus in tech park to foster mutally-beneficial, long-term partnerships and collaborations between uOttawa and the Kanata North community. The campus provides a unique environment to support research and innovation while enabling access to the critically needed talent to Canada's largest technology park.
2021
Hub350 Grand Opening
The Kanata North Business Association hosts grand opening for Hub350, the gateway to Canada's largest technology park. The newly renovated 12,000-square-foot space, formely Mitel, is a brand new ecosystem for industry, academic and finance partners to co-exist and collaborate in the heart of the Kanata North Technology Park.
2021
Carleton University opens Kanata North Campus
Carleton University opens a purpose-built innovation space within Hub350. The space features collaboration and meeting rooms, a café and garden terrace where faculty, staff and students can engage with more than 540 companies in the tech park, many of which already work with the university on research projects and/or hire co-op students.
2022
Hub350 x L-SPARK Living Lab Accelerator
The Kanata North Business Association and Hub350 partners with L-SPARK, a leading technology and business accelerator, to create the Living Lab Accelerator with the aim of accelerating customer adoption and real-world deployment of 5G and next generation technology solutions that support the Kanata North community's live, work, play, learn and innovate lifestyles.
2022
Nokia Announces $340 Expansion
Nokia Canada and the federal, provincial and city governments announce plans to turn the company's Kanata North headquarters into a research and development centre, a mixed-use corporate, residential and commercial hub built using sustainable technologies.
2023
Discover Technata
The annual Discover Technata career fair breaks records with registrants looking to jump-start their careers in Canada's largest technology park.
What's next for this vibrant community? The future looks bright for Kanata North with new mixed-use residential and commercial buildings taking shape in the park. The building of space and programming where talent can engage with industry, academic and corporate partners to solve real world problems is the region's North Star. This is a time of innovation, development, and growth for Canada's largest technology park.